An enjoyable 5 a-side Christmas Tournament saw Players young and old take part in well contested qualifying rounds before Darren Quigley's side clashed with Tommy Ryan Luke's team in the Final where Darren Quigley & Co. claimed a memorable 3-1 victory. The eventual winners had gone behind after Declan O'Toole put the Garavane led side ahead, however Darren Quigley playing a captain's part equalized before the half time whistle. Darren Quigley's outfit went on to dominate proceedings in the second half with Liam Ryan securing the victory with two superb efforts to cap off a fine performance. Goalkeeper Theo English was in scintillating form for the winners throughout the Tournament and more than played his part in landing the Title for the Barnadomeeny native and was a deserving recipient of the Player of the Tournament accolade; please click here for Tournament results.
Meanwhile, an Exhibition Ladies Game played before the Gents Final saw a Geraldine O'Toole Rovers selection claim the plaudits against Liz O'Toole's All Stars on a two nil score line, Maggie Sheehy and player of the match Helen Kennedy scored for the winning side.
Our thanks to all Ladies and Gents players for their participation, thanks to Tournament referee Alec McCormack and our gratitude to Rody & Ann Kennedy for their donation of a €50.00 Sports Voucher drawn at the post Tournament Function in addition to Hamper Presentations made to Ladies Player of the Tournament and Gents Player of the Tournament. Finally, thanks to Simon Kennedy and Eamon Devitt for organising the Event.

Tournament Captains & Tournament Referee
Back Row( L to R): Jim Caplis, Alec McCormack (Referee), Darren Quigley, Robert Harrington
Front Row (L to R): James Deegan, Mark Hogan, Tommy Ryan Luke

Denis Kennedy (Club President) presenting the Mike Hynan Cup to winning Captain
Darren Quigley

Back Row( L to R): James Nolan, Theo English(Player of Tournament), Liam Ryan
Front Row(L to R): Darren Quigley (Capt), Martin McLoughlin, Liam O'Toole

Back Row( L to R): Sean Dervan, Sean Sheehy, Robert Harrington(Capt.), Derek O'Toole
Front Row (L to R): PJ McLoughlin, Pat Deegan, Sean Kennedy

Back Row( L to R): Jim Caplis(Capt), Paul McGrath, Thomas Kennedy
Front Row(L to R): Simon Kennedy, Matthew Ryan Luke, Seamus Lenihan

Back Row( L to R): Davy Ryan Luke, Michael O'Gorman, Martin Ryan, Kieran Devitt
Front Row (L to R): Larry McLoughlin, Ger Kennedy, James Deegan(Capt)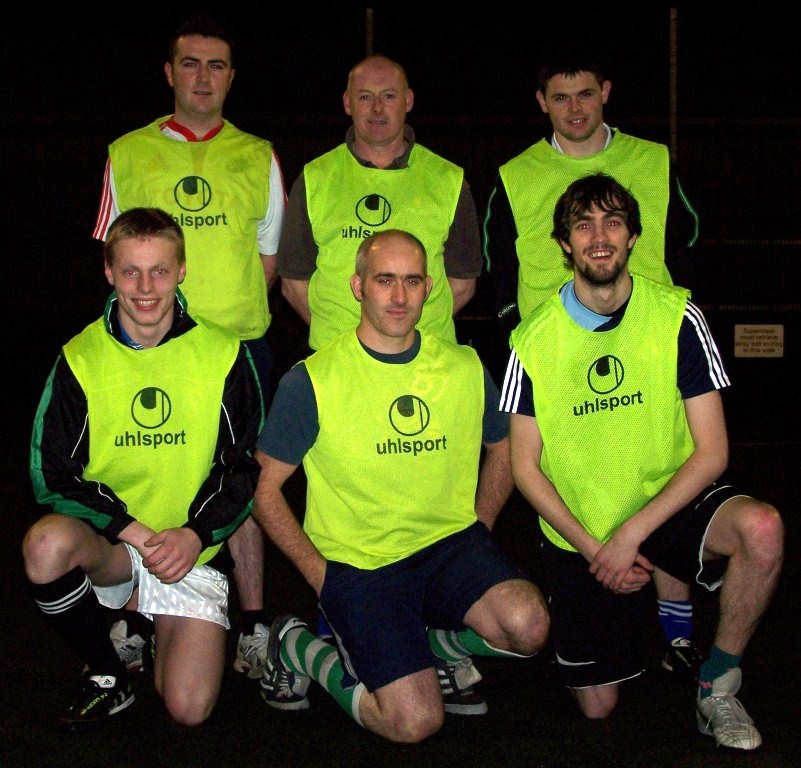 Back Row( L to R): Dermot Ryan, Denis Kennedy, Declan O'Toole
Front Row(L to R): Sean Hickey, Diarmuid Sheehy, Tommy Ryan Luke(Capt.)

Back Row( L to R): Joey Nolan, Shane Reynolds, Myles Devitt
Front Row (L to R): Mark Hogan(Capt), Eamon Wade, Eamon Devitt

Back Row( L to R): Geraldine O'Toole, Helen Kennedy, Collette O'Toole
Front Row (L to R): Maggie Sheehy, Elaine Berkery, Catherine O'Toole

Back Row( L to R): Elaine Sheehy, Annie Leahy, Niamh Berkery
Front Row (L to R): Ann Ryan, Liz O'Toole, Vicky Reynolds

In attendance at the Christmas Tournament (L to R): Pat Hogan, Donna Hogan, Paudie Coyle, Rody Kennedy, Pat Morrissey

Ladies Player of the Tournament Helen Kennedy receiving Presentation from Rody Kennedy

(L to R): John Lyons, Tony Ryan, Jim Ryan, Nancy Armshaw Caplis

(L to R): Denis Kennedy, Thomas Kennedy, Noreen Kennedy, Nell Kennedy

(L to R): Liz O'Toole, Marella Shanahan, Laura Horrigan

(L to R): Padraig Hickey, Sean Hickey, Una Hickey



(L to R): Robert Harrington, Mark Hogan, Derek O'Toole, James Nolan, Michael O'Gorman

(L to R): Seamus Lenihan, Christy Kelly

(L to R): Siobhan Deegan, Noeleen English, Fiona Kennedy

(L to R): Tony Ryan, Myles Devitt, Davy Ryan Luke, Pat Deegan, Tom Hickey

(L to R): Tina Nolan, Catherine Reynolds

(L to R): Clodagh Ryan, Caroline McLoughlin

( L to R): Mike Clifford, Mattie Ryan, Mary Ryan, Ger Kennedy