Bilboa Sports & Athletic Club
Rearcross FC has enjoyed a close affinity with Bilboa Sports Club since we moved to Bilboa in 1989 and indeed it is questionable as to where Rearcross FC might be today if we didn't have Bilboa as a home venue from 1989 up to the millennium year, when we eventually moved backed to our base in Rearcross. Both Clubs have benefited mutually in the intervening years from our lotto Sales partnership whilst the income from our weekly lotto Sales acted as a steppingstone which facilitated the Club to purchase our own site in Rearcross in 1997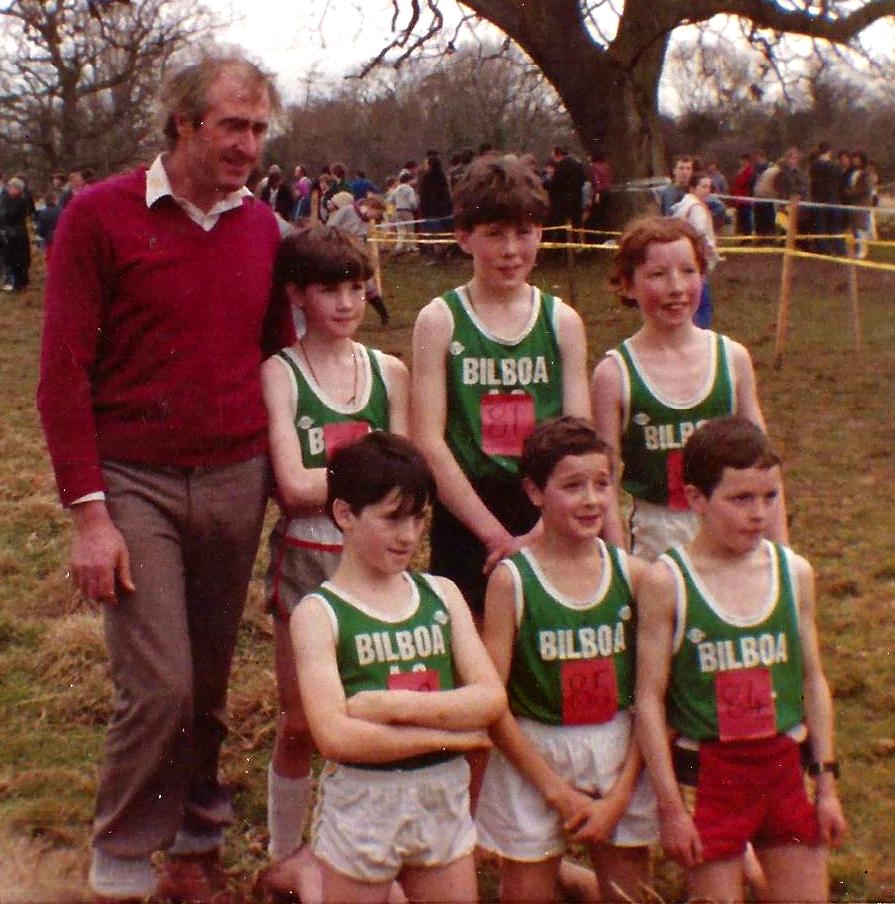 Bilboa Sports Club dates back to 1928. The origin of the Club can be traced to the staging of a play in the old Bilboa Creamery. The old creamery site situated near Bilboa Bridge at Ardnagort now owned by the Duggan family. The success of the play led to the formation of the Bilboa Club. In the early years the club was actively involved in Tug a War and fielded a famous Tug a War team in the early thirties. At that time there were some noted athletes in the club namely Tony Barry RIP a great 220 yards runner and Bill Dawson RIP a noted man at the Pole Vault. It is recalled the first Sports was held in Bilboa in 1936. A band from Rearcross played from Bilboa Cross to Walshe's field which became known as the Sports field and was used for training by the club until we acquired our present site. Meetings were held in Dawson's cow shed in those days. The Officers of the club were Chairman: John Ryan Bill (RIP) Secretary: Mick Duggan (RIP), Treasurer: Paddy Duggan (RIP). Club activities ceased due to the war and was not revived until 1951. In 1952, a younger generation became involved which saw a new Club been formed and their meeting place was an old house in Walshe's field. Officers were Chairman: Paddy Power, Secretary: Michael Hickey and Treasurer: John Ryan L. They enjoyed considerable success on the athletic field. They competed in the Novice Cross Country held at Eyon on 13th December 1953. In 1954 they won the County Junior in Croom wearing jerseys from Glengar hurling team. In 1955 they won the same competition. The Club faded due to emigration and was not revived for a further twenty years.
In 1975 John O Brien, a well-known runner, played a major part in its revival along with Johnny Ryan R, William O'Dwyer and Paddy Power. In 1976 there was a great Tug a War team which defeated a number of great teams in a major tournament in Doon in April 1976. In 1977 the Munster Championship Tug of War held in Willie Maddens field in Cappamore there was some tremendous pulling throughout the championship with Bilboa and Drangan reaching the final. Bilboa were declared winners after 3 pulls.
The first official athletics meeting commenced in 1977. The Club officers in 1977 were Chairman: Johnny Ryan R, Vice Chairman: Pat Hynan, Secretary: Bernard Ryan, Assistant Secretary: Tommy Ryan, Treasurer: Julie Lonergan and Assistant Treasurer Mike Hynan in addition to 54 Club members.
The Club meetings were held in Coleman's house until 1978 when they moved to Bilboa School. The club ran Annual Sports Days in Walsh's Field which was the highlight of the year. Over the years the Club also ran Schools Sports, Tug of War events, supper socials, 45 drives and charity events.
In 1983 Bilboa Sports Club became affiliated to BLOE and the name of the club was changed from Bilboa Sports Club to Bilboa Sports & Athletic Club. Prior to this we were under BLE rules. With a registration of sixty one athletes. Today we are under the auspices of Athletic Ireland AAI. The aim of the Club was to promote athletics in the area especially for the young and this was certainly achieved over the years. Athletes have represented the Club at County, Munster, All Ireland as well as Community Games Finals. We even made the field in International events and even the Olympics. In 1987 the heroic efforts of the club came to light with the winning of the 1st All Ireland Championship for the Club in Santry. It was a unique occasion. This was a timely boost for the athletes and an occasion of joy and emotion. They were trained by their Manager John Sheehy and the winning team was Diarmuid Sheehy, Paddy Ryan L, Kieran Kelly, Colm White, David White and Liam Lysaght. Five members of this team have continuously won the National Cross Country Championship title in '87, '88, '89 and '90 and they returned to Claremorris in '92 to win again. They were Diarmuid, Paddy, Colm, David and Kieran. Paddy Ryan L also won an individual All Ireland Medal in 1987. A tremendous achievement for a small Club.
The name Bilboa was certainly stamped in Ireland in the 1980s in the athletic field with some fine wins. A number of Munster titles were also won during '85, '86, '87 and '88. 1987 and '88 also saw U12 Boys relay team come 2nd in the Community Games National Finals with Diarmuid Sheehy 2nd in the Walk and James Berkery 2nd in 80m.
In 1990 the Club won the best Club award and enjoyed some international success with Diarmuid Sheehy and Rosemary Ryan competing abroad both finishing 3rd competing against athletes from Ireland, England Scotland Wales and the Isle of Man. 1990 also saw our Junior Girls team win the Schools All Ireland Cross Country in Boyle (R Ryan, M Bradshaw, S Lonergan, V Walsh, M Murphy M Anderson). Also, in 1990 saw the U15 girls' team win the All-Ireland Cross-Country title (Team R Ryan S Murnane, B Joyce, U Lake, V Walsh and M Bradshaw) under their trainer John Sheehy. Over the years athletes were chosen in various fields to represent their country abroad, this was based on their performance both at Munster and All Ireland level.
the year 2000 say our local star Rosemary Ryan bring the Bilboa name to Stadium Australia, where she competed in the Olympics having reached the Olympic standard. During Rosemary's running career she was the winner of Southern Regions and National Junior Cross Country Championships, she represented Ireland in the Five Nations Celtic International Cross-Country Championships and came in in an outstanding 2nd place. In the World Universities Cross Country Championships, she was the leading Irish girl the youngest in the race coming in a credible 25th place. She also won Southern Regions and Novice U23 championships and the Women's country senior cross-country championship. She has had an amazing running career wearing the Bilboa jersey.
In 1987, the Club developed their own running track. Tremendous work was done by a huge band of voluntary workers. 1992 saw the first phase completed with boundary walls and fencing. The playing pitch was completed. Phase two had now started with the building of the Complex consisting of toilets showers dressing rooms and a gym. A FAS training programme developed the grounds together with groups of volunteers. Pat Hynan and John Sheehy played a major role in the development of this outstanding amenity that we have in Bilboa today and will be there for years to come.
To continue with the development of the club in 1992, a Lotto was organized under the guidance of Fr. Corbett. The Lotto still runs today and is a source of income for the Club it could not be maintained without our committed group of club members under the lotto managers of Mairead Sheehy and Jerry Duggan who run it week in week out. We are indebted to our groups who sell tickets on a weekly basis and to all for your support. In July 1995 we opened our Gym. This provided a fantastic extra indoor facility where members and community can avail of our Facilities. It is a huge asset for the area offering a top-class facility to the public in such a small rural area. Over the years Bilboa Sports & Athletic club produced some fine athletes. Tom Blackburn competed in Alaska in the Mountain Running in 2003 as part of the Irish Team. Martin Bradshaw competed in Wellington, New Zealand in 2005 in the World Mountain Running Championship also as part of the Irish Team.
During the early 2000s numerous All Ireland titles were brought to the Club by Gearoid Sheehy, Niamh Mooney, Aoife O Malley, Muireann Creamer, Con Berkery, Niamh Berkery, Eamon Gleeson and Sinead Holmes. Bilboa Athletic Club was noted for its racewalkers namely Diarmuid Sheehy, Sean Sheehy, Siobhan O Malley, Anne O Malley, Gearoid Sheehy, Sinead Holmes, Fiona Holmes and Roisin O Malley, these athletes brought many All Ireland Titles to the Club over the years in a unique sport. Some breaking National records in the process and some competing internationally. Gearoid was the winner of three National titles in Community Games Race walking. Siobhan & Anne O Malley, Niamh Mooney and Aoife O Malley competed in throwing events in their athletic career for Bilboa and brought many National titles to the club in Discus, Shot Putt and Javelin. Mike Cunningham had some fine performances while a member of Bilboa AC clocking up miles on the roads. Larry O Grady our Master athlete competes at various track & field events and has had great success.
We would like to pay special tribute to all the trainers involved with the club over the years for the tremendous dedication and commitment they gave to Bilboa in producing such fine athletes. Today we have first class facilities at Bilboa, any club would die for.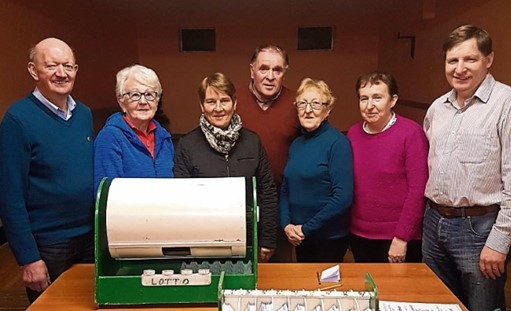 It came from hard work, commitment and dedication. Bilboa has been the host to County and Munster Athletic Championships. Our training facilities are first class and are enjoyed by the wider community. Gone are the days when athletes togged out at the side of a ditch and put their clothes in a plastic bag, trained gathered up their gear and went home wet, mucky and tired. Now we have a Sports Complex with hot showers and changing rooms. We have developed a walking track in recent rimes which enhances our training field, Discus Cage, together with Gym and indoor hall. Our Clubhouse is equipped with a Defibrillator donated by the family of the late Ger Mullane. Our 10K road race is one of our feature events each year held in June, it is now known as the Ger Mullane Memorial Road Race.
This year is our 15th Annual Race. Today we have Senior athletes, Juvenile athletes, Fit for Life group representing us in all athletic events. Declan Moore
one of our senior athletes has achieved many successes on the road over the past few years. Senior men and ladies' teams compete in County, Munster and Road Races and have achieved team success. Our Juvenile club participated in track and field and cross country, at county and Munster level last year. Three juvenile members qualified for the National Finals in Athlone, Adam Meehan, Shane Duggan and Hannah Reynolds and done their club, parish and county proud. They are a young bunch of athletes and will reach their peak in time. They are coached under a number of volunteers who give freely of their time to train these children. Their aim is to participate to their best ability and keep the name of Bilboa alive in the athletic front. Coaching courses have been undertaken by the trainers. Participation, drive and determination together with training is the key to success. To all who have competed down through the years well done.
It is great to see that some members of the club in 1970's are still actively engaged in the running of the club today and it is an added bonus to have such knowledge and guidance in the club.
The facilities are open daily from 7pm to 10p.m. Monday to Friday. A little thought "Allow children to watch and you will please them for a moment; have children participate and you will occupy them for a lifetime"
Written by Margaret O'Malley (July 2016)