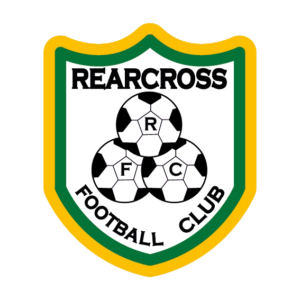 ESTB. 1972
ná géill go deo
50th Anniversary : 1972 to 2022
Rearcross FC Fundraising Draw – Win 2 Premium tickets for Man City v Liverpool at the Etihad, read more…
World Cup Predictions Competition – Well done & many congratulations to Aoibheann Devitt, read more…
Fixtures
Thurs 2nd Feb: TUS Limerick v IT Tralee at Rearcross FC Grounds, kick off at 7:00PM
Fri 3rd Feb: Rearcross U-13 Boys are at home to Borrisokane at 7:00PM in the League
Sun 4th Feb: Rearcross 'A' are away to Ballymackey 'A' at 11:00AM in the League
Sun 4th Feb: Rearcross 'B' are away to Shinrone at 11:00AM in the League
Mon 6th Feb: Rearcross U-13 Boys are away to Lough Derg 'C' at 10:30AM in the League
Results
Sat 28th Jan: Exciting win for Rearcross U-12 Girls by the odd goal in three, read more…
Fri 27th Jan: Tipperary Cup exit for depleted Rearcross 'A' on 4-1 scoreline, read more…
Sat 21st Jan: Rearcross 'A' come from behind to win 2-1 against Clodiagh Rangers, read more…
Sat 21st Jan: Away point for Rearcross U-13's in Ardcroney on 2-2 scoreline, read more…
Fri 20th Jan: League aspirants Shinrone hold the aces over Rearcross 'B' with 6-1 result, read more…
Sat 14th Jan: Rearcross 'A' leave it all on the pitch in Cork before losing by the narrowest of margins, read more…

The Club was bereft and saddened at the untimely passing of Rody Kennedy on Wed 16th November 2022. Rody was a former player, supporter and loyal sponsor over many years, Rody's memory lives on in the annals of Rearcross FC, may he rest in peace
Well done to Conor Nolan on his selection for the NTSFL under 12 representative squad and to Oisín Reynolds and Jack Nolan on their selection for the NTSFL under 14 representative squad, read more…
Rearcross FC are delighted to be 1 the of 2 Clubs selected in the NTSFL to participate in the FAI Future Stars programme for Girls aged 9 to 12. This is a very welcome boost for our newly formed U-12 Girls Team, our thanks to the NTSFL & the FAI.
In Appreciation of David Ryan Luke
1976 – 2021
The Club lost a true stalwart at the end of December 2021. Davy's persistent drive, hard work, technical guile and dedicated loyalty to Rearcross FC will never be forgotten. Davy has left a lasting legacy and presence at Rearcross FC Grounds, may he rest in peace.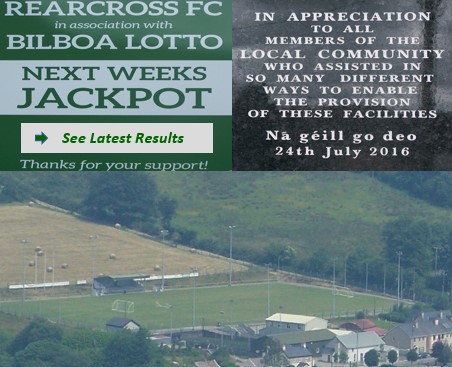 Rearcross FC Lotto Fundraising in association with Bilboa Sports Club
Rearcross FC's main income stream derives from Bilboa Lotto ticket sales and we have enjoyed a mutually beneficial partnership with Bilboa Sports Club going back to 1992. The Bilboa Lotto draw takes place every Monday night and funds raised from our sales of lotto tickets have been a vital source of fundraising for Rearcross FC for over 30 years. Tickets are available from Club members and also available in Kennedy's Bar & Shop, the Congo Bar, the Rising Sun and the Cross Bar. Tickets can also be purchased on-line at Bilboa AC Lotto
Select 4 numbers between 1 and 28 to be in with a chance to win the Jackpot which increases by €200 on a weekly basis if not won. There is also prize money for 3 numbers and lucky dip draws from time to time. Best of luck!! and thanks for your ongoing support of Rearcross FC fundraising activities!!