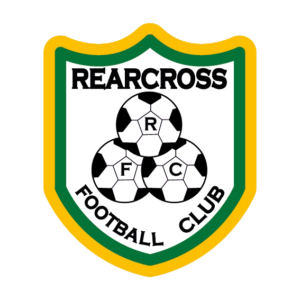 ESTB. 1972
ná géill go deo
50th Anniversary : 1972 to 2022
Rearcross FC LMS – start date was Fri 15th Sept, check Rearcross FC Facebook Page for latest standings.
Club Fixtures
Results
Sun 24th Sept: Rearcross 'B' make winning start to league campaign with 3-1 result, read more…
Sun 24th Sept: Stalemate for Rearcross 'A' in Ballinree on nil all scoreline
Sat 23rd Sept: Three nil win for Rearcross Youths in their NT&DL debut game, read more…
Thurs 21st Sept: Rearcross U-14 Boys take maximum points with 6-5 win over Lough Derg, read more…

Ann Kennedy Tournament 2023, penalty shootout victory for Newport AFC, read more…
Well done to Oisín Reynolds who was part of the NTSFL squad that participated in the Kennedy Cup competition played at the University of Limerick.
Club condolences on the untimely passing of Kathleen Kennedy McLister, may Kathleen rest in peace,
The Club was bereft and saddened at the untimely passing of Rody Kennedy on Wed 16th November 2022. Rody was a former player, supporter and loyal sponsor over many years, Rody's memory lives on in the annals of Rearcross FC, may he rest in peace
Check local league information, league tables etc on our local league websites:
North Tipperary Schoolchildren's Football League – NTSFL
North Tipperary & District League – NT&DL


Please support

local businesses

who in turn support Rearcross FC – Catering for all needs & provisions – Thank You!!
In Appreciation of David Ryan Luke
1976 – 2021
The Club lost a true stalwart at the end of December 2021. Davy's persistent drive, hard work, technical guile and dedicated loyalty to Rearcross FC will never be forgotten. Davy has left a lasting legacy and presence at Rearcross FC Grounds, may he rest in peace.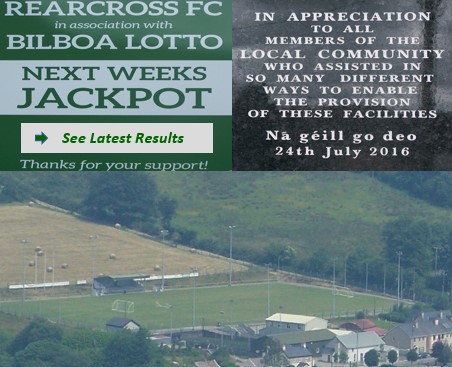 Rearcross FC Lotto Fundraising in association with Bilboa Sports Club
Rearcross FC's main income stream derives from Bilboa Lotto ticket sales and we have enjoyed a mutually beneficial partnership with Bilboa Sports Club going back to 1992. The Bilboa Lotto draw takes place every Monday night and funds raised from our sales of lotto tickets have been a vital source of fundraising for Rearcross FC for over 30 years. Tickets are available from Club members and also available in Kennedy's Bar & Shop, the Congo Bar, the Rising Sun and the Cross Bar. Tickets can also be purchased on-line at Bilboa AC Lotto
Select 4 numbers between 1 and 28 to be in with a chance to win the Jackpot which increases by €200 on a weekly basis if not won. There is also prize money for 3 numbers and lucky dip draws from time to time. Best of luck!! and thanks for your ongoing support of Rearcross FC fundraising activities!!