Luckless Rearcross lose out in Ricky Fogarty Cup Final
A Paul Kirwan goal early in the 2nd half was enough to clinch the Premier Division Cup for Killavilla United over a gallant Rearcross 'A' at a resplendent Moneygall FC Grounds on Friday evening. The Rea boy's preparation for this decider was far from ideal as their last competitive fixture was some seven
weeks previous and were slow to get to the pace of the game as the Roscrea side did the early pressing. Rearcross custodian Cathal Kennedy had to collect from the left on 4 minutes and then Paul Nolan tracked back minutes later to make the firmest of tackles on Micky Ryan to avert the danger. A Rearcross foray on 14 minutes saw James Deegan & Michael O'Gorman combine however John Cordial tidied up. Eamonn Wade was immense for the green & whites throughout and made a telling intervention to deny Paul Kirwan near the endline midway through the half. A counter attack saw Michael O'Gorman fire over in the 25th minute. The woodwork came to the rescue for the Eamonn Devitt managed team seconds later when the ball thumped off the crossbar. Killavilla had looked the more threatening in the opening half and came close again when an Eddie Simmons delivery was headed over by Brian Moloney and then Mark Dwyer dribbled through but Cathal Kennedy was well positioned to block. Rearcross looked to have beaten the off-side trap 12 minutes before the break after James Deegan broke through and a goal looked on but played was called back. The Kennedy's Bar sponsored outfit made a strong finish to the half and were robbed of the opener in the 34th minute when good play by Darragh Kennedy saw the ball break to James Deegan on the edge of the box, the rasping effort was just inches wide of the target and then James Deegan was in the action again 3 minutes before the interval with a well struck shot but the Killavilla keeper saved.
Killavilla were fast out of the traps in the 2nd half and an incisive move through the middle saw Paul Kirwan get behind the Rea defence, however Eamonn Wade somehow got a vital touch to deny the Roscrea marksman. The reprieve was short-lived though as Paul Kirwan bagged the all-important goal two minutes later when Mark O'Dwyer's cross from the right found the hitman in space who made no mistake with a bullet to the back of the net. Full credit to Rearcross and their never give up approach as they took the play to their opponents for the remainder of the game.
A Michael O'Gorman free kick drifted over the bar and then a good attack by Rea won a corner kick on 67 minutes which was floated in by Brian Nolan, this proved to be a turning point as Darragh Kennedy's glancing header ricocheted against the upright and had this nestled in the net, then a different outcome may well have ensued. Killavilla came close to extending their lead when Darren Coleman's free kick saw Micky Ryan ghosting in at the back post, but the ball went wide. Rearcross kept battling and a Darragh Kennedy daisy cutter finished in the side netting 12 minutes from time. Eamonn Wade was called to action again minutes later to thwart Paul Kirwan who posed a constant threat throughout including his aerial prowess. The game was in the melting pot right up to the final whistle and Cathal Kennedy raced off his line to make the save of the game in the 89th minute with a superb one on one block from Mark O'Dwyer on the right. Eamonn Wade was last man back 4 minutes in to injury time and was left with no option but to impede and saw red as a result. This was a harsh injustice but the Rearcross stalwart had more than played his part in a defensive quartet that were outstanding on the evening. Rearcross were still not done and a great move produced a bursting run by Darragh Kennedy on the right flank before the ball was released to James Deegan, however the delivery flew over the bar as the final whistle sounded a minute later. Well done to match officials John Hayes, Robbie Nevin & Alec McCormack who played their part in a thrilling encounter. Richard Fogarty brought proceedings to an end after presenting the Ricky Fogarty Cup to Killavilla's Paraic Phelan in memory of his late son Ricky (RIP). Thanks to Rearcross supporters who travelled in large numbers for the game, this is greatly appreciated by management & players and finally thanks to Kennedy's Bar for standing a complimentary drink to all and sundry upon arrival back from Moneygall and indeed their ongoing sponsorship, Rearcross will now take time out and regroup for next season.
Rearcross 'A': Cathal Kennedy, Brian Nolan, Eamonn Wade, Robert Harrington, Greg Kennedy, Darragh Kennedy, Kieran Devitt, Paul Nolan, Conor Nolan (Capt), Michael O'Gorman, James Deegan
Subs: Philip Deegan for Brian Nolan (60th minute), Stephen Rochford for Kieran Devitt (60th minute), Nigel Ryan for Robert Harrington (87th minute)
Subs Not Used: Colm Nolan, James Rochford, Paul Carey
Killavilla United: Robert Roe, Dylan Carroll, Eddie Simmons, Ian Treacy, John Cordial, Mickael Ryan, Mark Dwyer, Darren Coleman, Paul Kirwan, Brian Moloney, Craig Phelan,
Subs: Ruarí Murphy for Craig Phelan, David Moloney for Micky Ryan(80th minute), Jamie Boland for Eddie Simmons (84th minute)
Subs Not Used: Roddy Teehan, Denis Moloney
Referee: John Hayes
Assistant Referees: Robbie Nevin, Alec McCormack
Report by Ger Kennedy
Finally, a special acknowledgement and tribute to Rearcross 'A' Manager Eamonn Devitt who has decided to step down as 'A' team Manager following a glorious period of success which includes Barry Cup Winners(2020/2021), First Division League Winners(2021/2022), Tipperary Cup Runners-up (2021/2022), Premier Division Cup Runners-up (2022/2023) and 2 memorable back to back Munster Junior Cup campaigns getting to the 4th round for the past 2 seasons and luckless to lose out on one goal margins to lofty Cork opposition. So, a remarkable and memorable period under Eamonn's management, thanks very much Eamonn for your time, commitment and guile. The Club looks forward to having you back in the management arena at some stage in the future
(L to R) Alec McCormack, John Cordial, John Hayes, Conor Nolan, Robbie Nevin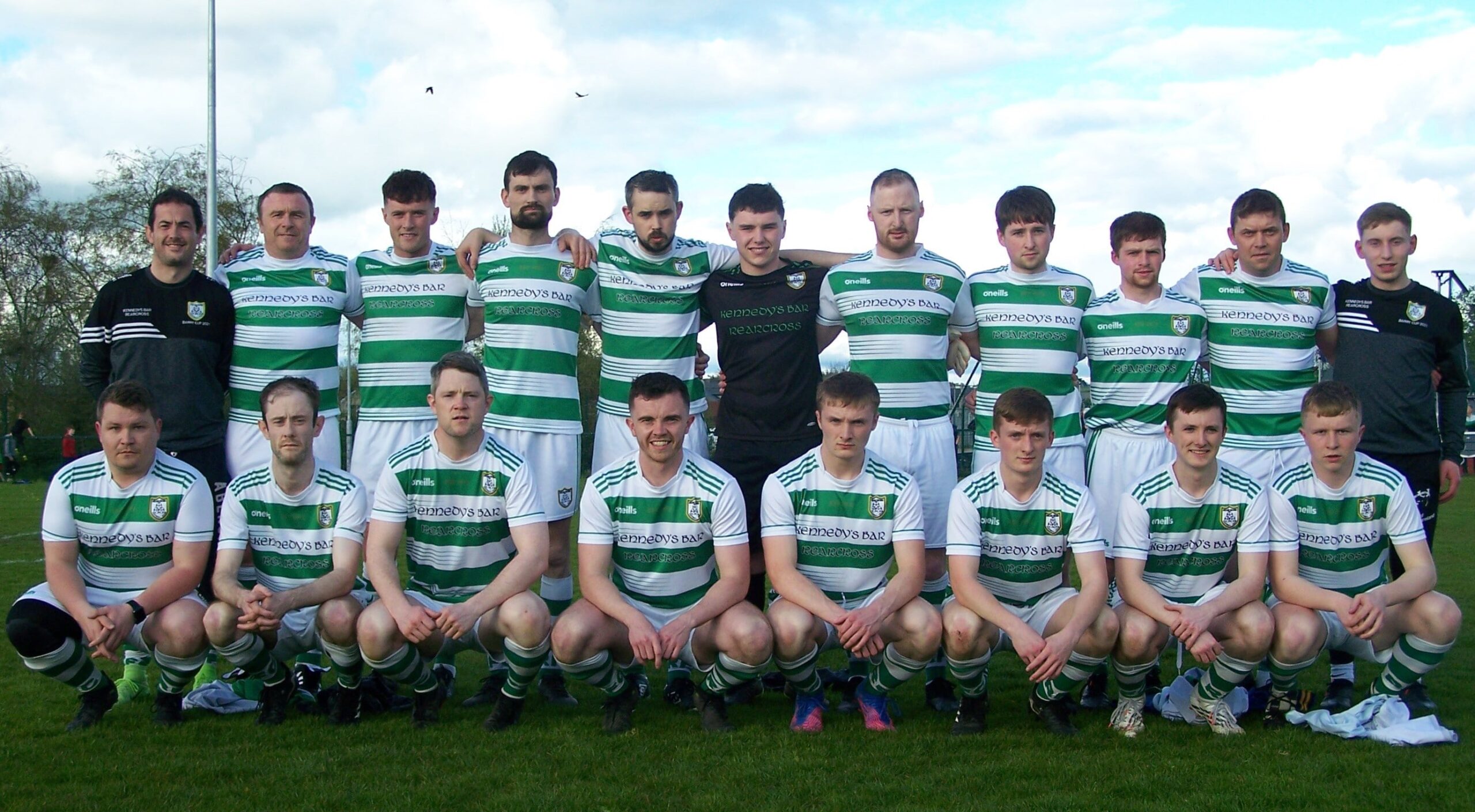 Rearcross 'A'
Killavilla United

Darragh Kennedy gets on the end of Brian Nolan's corner kick and luckless to be denied by the upright!!

Details
| Date | Time |
| --- | --- |
| 28 April 2023 | 9:46 AM |