Rearcross denied as Sallypark retain the Tipperary Cup
Three first half goals were enough for a well drilled, physically dominant Sallypark side to retain the Kevin Fogarty Tipperary Cup. There was not a cloud to be found in Drombane on Sunday morning as Rearcross and Sallypark supporters alike descended on Clodiagh Rangers FC for an enticing battle between the Division 1 winners, Rearcross; and the Nora Kennedy Cup winners, Sallypark. Rea' lined out with their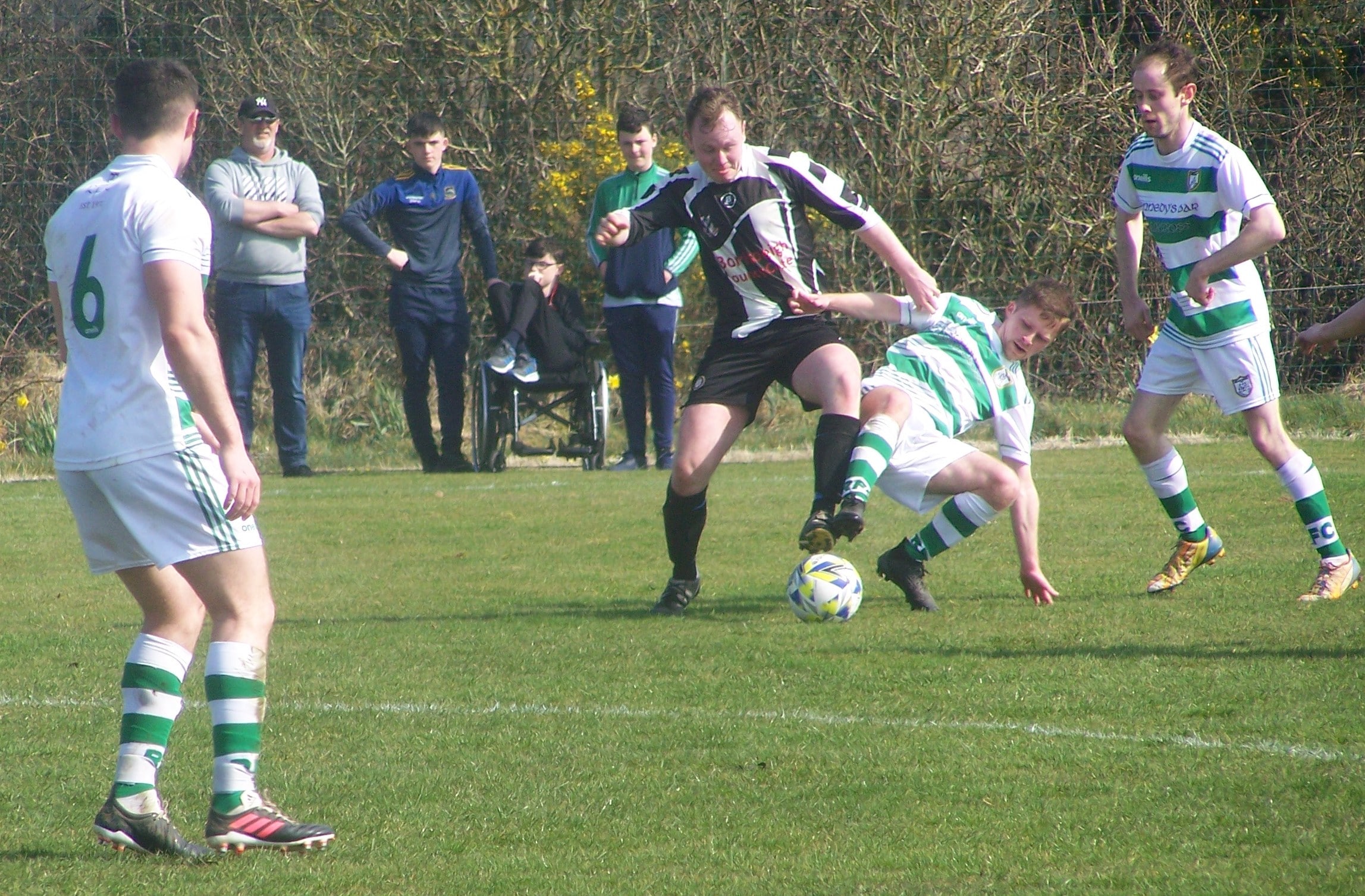 familiar three at the back formation, whilst the ever-reliable Eoin Ryan was in the middle of a flat back four for Sally, alongside captain Brian Duffy. Rearcross rely on teams pushing on against them and leaving space in the channels for James Deegan and Paddy Dawson to exploit on the counter, but they were never going to get that against this extremely compact Sally defence. The Nora Kennedy Cup winners knew they were strong in the air defensively, they somehow managed to drag Rea' into a game of long balls and aerial duels that they had no chance of winning, due to the experience and physical dominance of Eoin Ryan, Padraig Ryan, and David Young.
On the 2nd minute, the holders gave a warning flash of what was to come when Jimmy Shanahan lashed just wide at the back post following a deep ball in from a free on the halfway line, which was awarded after a high boot left Kieran Ryan needing a bandage around his head. On several occasions captain Greg Kennedy was alert to cut out Sally attacks at critical moments, and at the other end Deegan was threatening but could never get enough space to show his blistering pace. Sallypark had a clear height and strength advantage over their nippy opposition, and on the 17th minute they made Rearcross pay. The opener came after Paul Ryan drew a foul from Conor Nolan on the right side of the pitch at the halfway line. Robert Harrington won the first header at the back post only to see the ball travel back across goal towards fox in the box Jimmy Shanahan, who jumped with his man. Shanahan got a slice of luck because when he landed the ball was dropping to him invitingly and he made no mistake from 6 yards. Rearcross were level 7 minutes later when Paddy Dawson hit a thunderbolt of a half volley into the top left corner from the edge of the box. The goal came after a Michael O'Gorman strike was blocked out for a corner by Padraig Ryan. James Deegan took an out swinging corner from the left which Patrick Deegan challenged for on the penalty spot. The ball broke towards Paddy Dawson, who struck the cleanest half volley you will ever see; the ball would have stayed rising for another 15 yards had the net not got in the way. The Rea' faithful had a numerical advantage on the sideline and they were making themselves heard off the back of Dawson's strike. Darragh Kennedy and Greg Kennedy responded to the roars and rose to the physical challenge, but Sallypark kept ticking away creating chance after chance from long throws, crosses, and fantastic hold up play by Sean Ryan.
The holders regained their lead on the 35th minute through former Gurtagarry goal ace, Paul Ryan. It was a quick move which started with a sweeping 40-yard ball by Brian Duffy out to Sean Ryan on the left flank. Ryan got his head up before swinging in a ball which was perfect in height as it evaded Harrington and company before landing at the feet of an unmarked Paul Ryan. The ball got away from the striker due to a poor first touch, but that didn't matter as his second sent the ball flying into the roof the net despite a slip. Rearcross made the mistake of looking to play Deegan in behind straight away whenever they turned over possession, when really if they opted to build their attacks, they likely would have had too much technically for Sallypark.

Sallypark got an all important third goal in first half injury time when Sean Ryan found a yard of space on the right end line before crossing to the feet of his strike partner. Paul Ryan could have shot first time from 10 yards but instead he turned, he could have shot then but he chose to chop back once more and as he did his legs were taken from under him and a penalty was awarded. Just like last round Eoin Ryan dispatched from the spot, meaning Sallypark took a 3.1 lead into the break. Rearcross pulled one back through James Deegan seconds after the restart. The goal came after Deegan made a run from left to right in space vacated by Eoin Ryan, it was a surreal moment as Sallypark didn't think there was much danger, but the accuracy and pace of the striker's right footed shot from the edge of the box left Damien Kilgallon with no chance as the ball flew high to his left and hit the net. Paddy Dawson and Stephen Rochford were not found wanting as Rea' pushed hard for an equalizer. James Deegan did have a big chance on the 90th minute, and Patrick Deegan forced Damien Kilgallon into a match winning save in injury time, but ultimately the experience and guile of Shane Hogan's men ensured that The Kevin Fogarty Tipperary would stay put for another year.
It's a disappointing end to a breakthrough season for Rearcross FC. Eamonn Devitt's men have undoubtedly played more games than any other team this season, mental and physical fatigue may just have caught up with the Rea' boys towards the end of the campaign. Rearcross probably played their best football before Christmas, whereas Sallypark have timed their meteoric rise to perfection and are really only peaking now. Once the celebrations die down, the challenge for Shane Hogan will be replicating this form in Division 1 so he can restore Sallypark to the Premier Division.
Sallypark Odhrán FC: Damien Kilgallon; Kieran Ryan, Eoin Ryan, Brian Duffy, James Kirk; David Young, Liam Ryan, Padraig Ryan, Jimmy Shanahan; Sean Ryan, Paul Ryan.
Subs: Aaron Reid for Shanahan (72), Ruaidhri O'Brien for Kirk (75), Ronnie Kinnane for Paul Ryan (84), Tommy McLoughlin for L Ryan (89).
Rearcross 'A': Cathal Kennedy; Stephen Rochford, Greg Kennedy, Robert Harrington, Patrick Deegan, Darragh Kennedy; Kieran Devitt, Conor Nolan, Patrick Dawson; James Deegan, Michael O'Gorman.
Subs: Paul Nolan for Rochford (76), Brian Nolan for D Kennedy (80).
Referee: Alec McCormack
Assistants: Robbie Nevin, Jimmy McCarthy
Match Report by Gary Culbert
Details
| Date | Time | Season |
| --- | --- | --- |
| 27 March 2022 | 9:10 PM | 2022 |