Heart-breaking extra time defeat for Rearcross 'B'
Rearcross B travelled to Shinrone with a massive task ahead of them hoping to reach the cup final. Despite being a few players absent manager Paul Carey put out his strongest side which started brightly. Gavin Denihan, Donny O'Brien and Aidan Bryan all get shots in on goal but failing to find the net. Rearcross were playing the better football. Rearcross defender Willie Mackey got in a vital block to stop Shinrone from scoring. On the 16th minute Aiden Bryan put the visitors in front with a clinical finish to the Shinrone net. Shinrone came into the game a bit more forcing a couple of corners before equalizing on the 30th minute. Rearcross B drove on from this and finished the first half strong with Gary Ryan shooting wide. Donny O'Brien good solo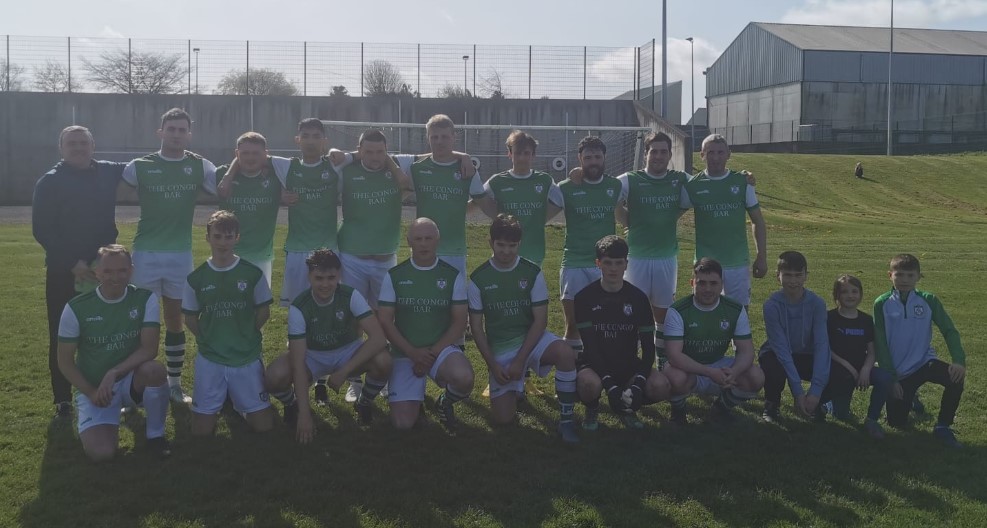 effort saw his shot just go over the crossbar, while Oisin Kelly had his effort blocked.
The second started again with Rearcross on the attack and good play from Oisin Kelly set up Aiden Bryan whose effort was saved by the Shinrone keeper. On the 56th minute a long ball from Shinrone midfield took an awkward bounce catching out the Rearcross keeper Brian Hammersley and the ball ended up in the Rearcross net despite his best efforts. Rearcross now behind dug deep and good play from Aidan Bryan found Dave Brennan whose effort was saved by the Shinrone keeper who got down well to his left to make the save. Shinrone hit the crossbar after this and Brian Hammersley made a good save to keep Rearcross in the game. The well drilled Paul Carey side now playing as if their lives depended on it came close to scoring with Gary Ryan shooting over from long range and Aidan Bryan's effort going just wide. The introduction of Liam Kelly who almost scored with his first touch only for his effort to narrowly go wide. However on the 85th minute Donny O'Brien latched on to a loose ball in the Shinrone box to make it 2 all. On the 90th minute Donny was on hand again but didn't get the strike on the ball he had hoped for and the Shinrone keeper saved.
The game finished 2 all and extra time was up next. Donny O'Brien again got in another effort on target but unfortunately didn't score. Shinrone also came close but for Brian Hammersley in the Rearcross goal coming off his line early and forcing the striker to shoot over. Just before the end of the first half of extra time a Rearcross defensive tackle saw the ball break kindly for the Shinrone midfield who struck it perfectly from 30 yards to the Rearcross net giving the Rearcross keeper no chance. The second half of extra time saw the Congo bar sponsored side press hard for an equaliser. Liam Kelly had a good effort but couldn't get enough on it to get it over the Shinrone keeper who saved. In the dying minutes Gavin Dinahen shot over and Aidan Bryan's effort just drifting wide. The game finished 3-2 in favour of Shinrone which left the Rearcross side very disappointed. The Rearcross men played unbelievable football with the back four of Sean Hickey, Anthony Ryan, Willie Mackey and Paul Ryan putting in an excellent display of defending. The team overall gave it everything they had in what was very warm conditions and did everything they were asked of but unfortunately didn't find the net as much as they could have on the day. A devastating result but the boys and manager can very proud of their display on the day.
Shinrone: Nathan Smith, Sean McLeish, Terence Bartley, David Murray, Aaron Kirwan, Shane Reynolds, Riann McLoughlin, AJ Deane, Daniel Bevans, Brian McNicolas, Alistair Robson, Ian Byrne, Conor Ryan
Rearcross 'B': Brian Hammersley, Paul Ryan, William Mackey, Anthony Ryan, Sean Hickey, Oisin, Kelly, Gary Ryan, Gavin Denihan, Donnacha O'Brien, David Brennan, Aidan Bryan
Subs: Michael O'Connell, William Horrigan, Felim Deegan, Liam Kelly, Thomas Kennedy
Manager: Paul Carey
Report by Thomas Kennedy
Details
| Date | Time |
| --- | --- |
| 16 April 2023 | 8:36 PM |