Game 1
NTSFL 3 – 1 WWEC (West Waterford East Cork)
The first game started immediately with a high aggressive press on the WWEC tip off and with a bang North Tipp were well on top with hitting the post in the first 30 seconds of the game from an interception by Danny McGuinness who squared it to Harry Jones who struck the woodwork We had plenty of chances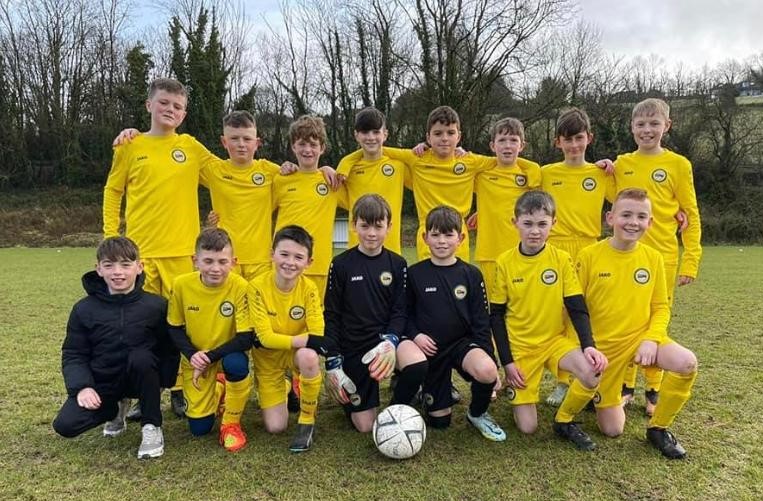 during the first couple of minutes and with 8 minutes in Harry Jones put in an inch perfect cross for Conor Nolan (Rearcross) to head into the back of the net. Throughout the half North Tipp kept possession of the football with Kuba and Rory Ryan working hard in midfield and in the 17th minute got their second with a Harry Jones fox in the box finish after a superb ball from Kuba to play in Danny McGuinness who pulled it back to the edge of the box for Harry to finish. Then against the run of play on the 21st minute WWEC pulled one back after scoring from a corner.
Half Time NTSFL 2 WWEC 1
We addressed a couple of ways we could break down the WWEC defense and after some fantastic link up play Sam Crowley comes on and gets our third, after a calm defensive effort the ball was cleared and an excellent run and cross from Harry Jones finished off with a powerful header by Sam. A great game to watch seeing such beautiful football played in spells and plenty of hard work leave North Tipp 3-1 winners at the final whistle.
Game 2
NTSFL 8 – 0 WWEC
Again a goal filled game in our second game of the day With another high press resulting in plenty of corner kicks. Jack Nash and Callum scoring directly from the corner flag in the 3rd and 4th minutes. In the 9th minute Callum grabs his second from another Jack Nash corner. Sam Crowley slots a shot into the bottom right hand corner from outside the box in the 11th minute and 3 minutes later Callum completes his hat-trick!
Half Time NTSFL 5 WWEC 0
After half time the boys didn't slow down, plenty hard work done by the boys in defence and midfield made sure our keeper's Jake Wright and Cathal Lillis didn't have much to do and our attack could be creative and created chances. 14 minutes after the break Paul Williams gets his first after being assisted by Tiernán. Paul coolly slotted home another and had a shot blocked off the line before completing his hat trick in the 53rd minute to close out the game. Fantastic performance By all the players .
This sees the U12s Top the group and we now await the draw to see who we play next in the National competition. Congratulations to the coaching team Darran O'Shea, Cillian O Shea , Rebecca Shiners , Anthony Hayes and to all the players.
Many thanks to Birdhill for the use of their facilities who had everything in tip top condition as always.