Thurles Town FC
Thurles Town entered the League of Ireland in 1977. This was major news in the Premier County at that time with home games to be played in Thurles Greyhound Stadium. The Cathedral Town Club had come a long way from playing Tournaments in Rearcross and indeed two of the Thurles Town stalwarts Paddy Barry (RIP) and Ted Scanlon (RIP) both of whom were heavily involved in taking the Club to the lofty heights of League of Ireland soccer had played and scored in a Rearcross Tournament Final played in 1971, where the League of Ireland aspirants recorded a 7-5 win over Crough Rovers in a thrilling final. The following article was compiled by John Murphy who served as Treasurer during Thurles Town's tenure in the League of Ireland and who has kept the Club going as a Junior Club in the intervening years and up to the present day, while the Rearcross Tournament match reports were kindly documented by Johnny Gleeson at that time.
The summer of 1977 was marked with shock and disbelief in soccer circles throughout Tipperary and further afield when the news broke that Thurles Town had been accepted to play in the League of Ireland in the 1977-78 Season. Northern Ireland International and Waterford United Player Jimmy McGeough was appointed Manager of the Premier County Club. A pre-season friendly saw England's Division 1 (now Premiership) Champions Stoke City play in the Greyhound Stadium before a huge crowd. Stoke City with England goalkeeper Peter Shilton between the posts for the visitors proved too strong for an inexperienced Thurles Town side. Galway United also joined the League of Ireland around the same time as Thurles Town, but the Tipperary side found it difficult to compete against the better financed sides on an ongoing basis in the League at that time.
Sean Sheehy succeeded Jimmy McGeough as Player Manager for a short time before former Ireland and Manchester United goalkeeper Pat Dunne was appointed Manager. Dunne had returned from England to play for Shamrock Rovers and later took on the Management job at Thurles Town. Tipperary's League of Ireland representatives most successful campaigns were under the stewardship of Pat Dunne with assistant George Richardson at the helm, finishing mid-table on two occasions.
Alfie Hale succeeded Pat Dunne as Player Manager, the Waterford stalwart had enjoyed a glittering career with Ireland, Aston Villa, Doncaster Rovers, Newport County, Waterford United, Cork Celtic and Limerick FC and finally Thurles Town where he became the oldest ever League of Ireland goalscorer at the age of 42 in the 1981/82 season and also the only player to score in four different League of Ireland decades. The sad decision to withdraw Thurles Town was made at the end of the fifth season, the finance required to compete on a national level could no longer be raised and the Committee felt it was wiser to call time on a historic era in Tipperary Soccer that saw such stars as Johnny Giles, Eamon Dunphy, Paul McGrath and Ronnie Whelan grace the hallowed turf of Thurles Greyhound Stadium.
Written by John Murphy (July 2016)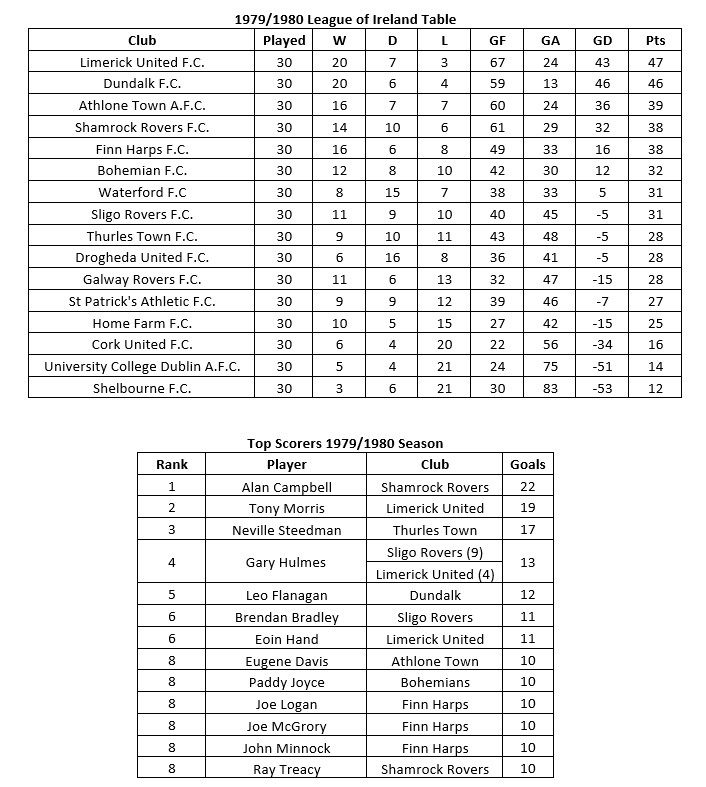 Rearcross Tournament Final
(October 1971)
Thurles Town 7 – Croughlahan (Limerick) 5
Thurles won the Rearcross soccer tournament on Sunday last with a deserved, if hard-earned, victory over Croughlahan Rovers. The game will be remembered for some fine goals, great goalkeeping and numerous hard but fair tackles. Rovers attacked from the kick-off and were rewarded after 10 mins, when, after Deere had been tumbled in the area, Hickey slotted home from the penalty spot. Thurles were very disorganised at this stage and, after 15 mins they conceded another goal. Ryan sent a lovely pass to Deere on the left wing, he centred, and Hickey soared above all others to head home. It looked as if Thurles would be routed at this stage, as they could get no attack going at all. Then the whole complexion of the game changed. Paddy Barry got the ball for Thurles about 15 yards out and sent it to the net. From this till the interval Rovers were completely outclassed. Scanlon (2) and Barry got further Thurles goals, and they would have got more, but for some fine goalkeeping by Seamus O'Grady. It was obvious that if Rovers were to win, they would have to get an early goal.
From the restart they pressured strongly but found the Thurles defence far more formidable than they had been in the opening period. After 15 mins of constant pressure Rovers scored only one goal, when in a goalmouth melee M. Hickey completed his hat-trick by scrambling the ball over the line. We then expected a great onslaught by Rovers, But from a break-away, Scanlon restored Thurles three-goal advantage. Then came Rovers best spell, when Hammersley belted the ball home from 15 yards after 30 minutes and followed it up with another a minute later. It seemed to be Rovers game at this stage, but Thurles's greater experience kept them in front, and they sealed the victory two minutes from time when Barry sent a lovely pass to Scanlon who side-footed it home. The medals were presented to the Thurles team after the game.
Croughlahan Rovers U-13's 7 – Rearcross U-13's 6
(October 1971)
In a U-13 challenge which acted as a curtain-raiser to the senior game, Rovers had a narrow win over Rearcross. Best for Rovers were Pat Mulready, Johnny Fahy and Christy Kelly. For Rearcross John Deegan, Johnny Caplis and Denis Kennedy played well. The game's outstanding player was Mulready who got five goals.
Croughlahan Rovers U-13's: J Walsh, Bill Hogan, P Mulready, Christy Kelly, Johnny Fahy, Eamonn Mackey
Rearcross U-13's: Donie Nolan, John Deegan, Ned Gleeson, Rody Kennedy, Johnny Caplis, Denis Kennedy
Written by Johnny Gleeson