Oscar Traynor – Footballer and Republican
The Oscar Traynor Competition is contested at national level by Junior Soccer Leagues from around the country. However, the North Tipperary & District League have only occasionally participated in this competition over the years. There is no doubt, that a greater number of Rearcross FC players would have made the cut to play Oscar Traynor had the NT&DL been involved on a yearly basis. The Club players who got the opportunity to play with the NT&DL Oscar Traynor team were Denis Kennedy, Nicky Carroll, Emmet Steed and John Ryan Luke.
Oscar Traynor was born into a staunchly Nationalist family in Dublin in 1886. He lived a diverse life in both the football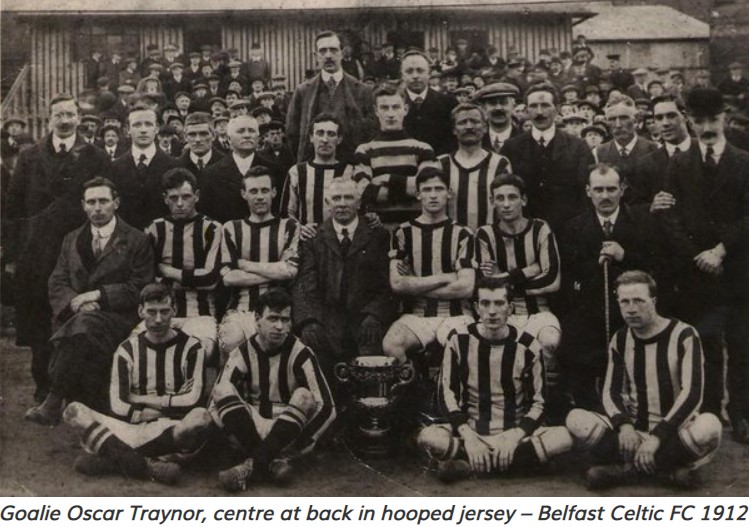 and political arenas. Traynor's playing career started with Dublin sides Frankfort and Strandville and also enjoyed a spell with Shelbourne before signing with Belfast Celtic where he won the inaugural Gold Cup in 1911/1912 defeating Glentoran two nil in the decider with the Dubliner producing a fine display between the posts. The end of the season saw Belfast Celtic become the first Irish Club to tour Europe with visits to Hungary, Austria, Germany and Czechoslovakia and played six games, winning five and drawing their final encounter. Traynor halted his goalkeeping career after signing for the Irish Volunteers in July 1914 and joined the F Company, Second Battalion Dublin Brigade.
From there on it was a different training regime as the focus switched from football to militant activity and his leadership qualities quickly shone through. He was promoted to the rank of Lieutenant and also took the oath of allegiance to the Irish Republican Brotherhood. He attended pre-Rising lectures given be James Connolly on street fighting, Thomas McDonagh on general strategy and a final lecture by Padraig Pearse just before the 1916 Rising. On Easter Monday, Traynor and colleagues took up positions in the GPO and surrounding buildings. Shelling began on the Wednesday evening, heavy artillery fire continued on Thursday and into Friday before cessation on Saturday when the rebels were captured.
Traynor's party were amongst the last to leave the GPO. Prison spells in Knutsford and Frongoch followed, but Traynor returned to Dublin to play an active part in the War of Independence rising to Brigadier level and led the attack on the Custom house in 1921.
Traynor later sided with the Republican side in the Civil War and he was involved in many Dublin engagements including the defence of the Four Courts. He later led guerrilla activities in South Dublin and Wicklow before being captured and imprisoned for the remainder of the Civil War.
In 1925, he stood as a Sinn Féin candidate but later joined Fianna Fail to serve in Ministerial capacities at Post and Telegraphs, Defence and eventually Justice. The former goalkeeper didn't lose his footballing interest and he was appointed President of the FAI in 1948, a position he held until his death in 1963, at the age of 77
Written by Ger Kennedy (July 2016)